! Page Created and Maintained by Michael Dolan mtdolan@mtu.edu > <! Where are you gonna go, when the volcano blows? >

Ruapehu Volcano, New Zealand
---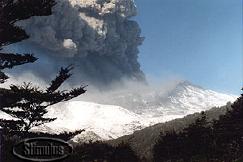 &copy Stimulus (NZ) Ltd. 1996
---
Last updated 11 July 1996
---
North Island, New Zealand

39.27S 175.58E

Summit Elevation 2796m

Local Time = GMT+12hrs (GMT+13hrs in NZ summer, effective October 1)

North Island's highest summit, 13 km SSW of Ngauruhoe, is marked by an acidic crater lake of highly variable temperature. This has been the site of more historic eruptions than any other crater lake in the world.
---
Eruption Updates
From The Media

TVNZ, New Zealand All material &copy TVNZ, New Zealand

CNN - Headline News

The Press On-Line, New Zealand

Reuter's International News
NOAA Image of Ruapehu Ash Plume From Manaaki Whenua Landcare Research Ltd
The Institute of Geophysics at Victoria University of Wellington has the latest Satellite Images on-line.
Global Volcanism Reports from the Smithsonian Institution
Maps
A few map perspectives of the North Island and Mount Ruapehu
3-d relief map of the North Island, New Zealand showing the major volcanic centers (&copy RSES, Victoria University of Wellington, New Zealand).
Regional New Zealand Map with Mount Ruapehu location (&copy Delphi Australia).
Ashfall coverage map from the first week of eruptive activity (&copy The Dominion, &copy The Evening Post).
Related Sites
---