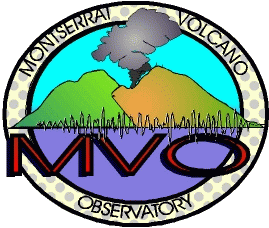 Montserrat Volcano Observatory
---
Publications Index
---
MVO issues several series of reports, and most of these are available from MVO in the form of "Open File" reports. The following Open File Reports (OFRs) and Special Reports are available from MVO, priced at $25EC or $10US per report.
Cheques or money orders, in US or EC dollars and payable to MVO, should be sent to:
Administrative Manager
Montserrat Volcano Observatory
c/o Chief Ministers Office
Montserrat
West Indies
Fax 1-664-491-2423
Daily Reports cover the 24-hour period to 16:00 on the day of publication. These reports are designed primarily to update the local population on the volcanic activity. They are sent to the local media and interested parties via fax and email, and are posted on the MVO WWW page. Daily reports are collated by month and issued as OFRs.
Morning Updates summarise the 15-hour period to 07:00 on the day of publication. Information in such reports is duplicated in the Daily Report, and the circulation list is similar. Morning reports are not issued as OFRs.
Scientific Reports have been produced regularly since December 1995, and usually cover the 7-day period to 23:59 on the Saturday of publication in a numbered series. The Scientific Reports are edited by one person, with input from and review by all MVO scientific staff. These summarise and add scientific information to the Daily Reports and are used as the basis for the monthly GVN Bulletin, compiled by the Smithsonian Institute with MVO review. Circulation is by fax, email and the WWW page, but more limited and mainly by email. Scientific Reports are collated every 6 months and issued as OFRs.
Special Reports are issued on an ad hoc basis and in a numbered series. These describe important periods of volcanic activity in detail, and are written by a small group of scientists with review by all MVO scientific staff on whose work reports are based. These are circulated as for Scientific Reports, and bound copies are available from MVO.
Other OFRs are issued on an ad hoc basis in a numbered series. These are individual reports of work done at MVO or collections of other reports, mainly for internal use. These Open File Reports are not internally reviewed and should not be used as a definitive information source.
"Seismicity News" is a newsletter published monthly by the Montserrat National Trust and MVO. The purpose of the newsletter is to keep the Montserrat population public up-to-date about current activity at the volcano and to inform its readers about earthquake and volcanic hazards. For overseas subscriptions, send $1US per issue to (cheques payable to the Montserrat National Trust):

Montserrat National Trust
Box 393
Plymouth
Montserrat
Special Reports
Number/Title 1 Report of the Explosive event of 17/18 September 1996. W J McGuire, G E Norton, R S J Sparks, R Robertson and S R Young (with a contribution from A D Miller)

2 Deformation of the Galway's Wall and related volcanic activity, November 1996 to March 1997. S R Young, J Barclay, A D Miller, R S J Sparks, R C Stewart and MVO Staff (In preparation, 1997)
Open File Reports
Number/Title
96/1 Daily reports, October 1995
96/2 Daily reports, November 1995
96/3 Daily reports, December 1995
96/4 Daily reports, January 1996
96/5 Daily reports, February 1996
96/6 Daily reports, March 1996
96/7 Daily reports, April 1996
96/8 Daily reports, May 1996
96/9 Daily reports, June 1996
96/10 Daily reports, July 1996
96/11 Daily reports, August 1996
96/12 Daily reports, September 1996
96/13 Daily reports, October 1996
96/14 Daily reports, November 1996
96/15 Daily reports, December 1996
96/16 Summary Report for OP-FTIR and COSPEC investigations of the volcanic gas plume, Soufriere Hills Volcano, Montserrat. Adam J H Maciejewski
96/17 Stability of the Gages Wall. Geoff Wadge, Charles Williams and Barry Voight
96/18 The Donnelly Reports, Laurance J Donnelly
96/19 Scientific reports 1 to 31: December 1995 to June 1996
96/20 Scientific reports 32 to 47: July to December 1996
96/21 Miscellaneous articles and abstracts 1996
96/22 Abstracts from the Special Symposium on Volcanism in Montserrat, the Second Caribbean Conference on Natural Hazards and Hazard Management, Kingston, Jamaica, October 1996
96/23 Abstracts of papers presented at a discussion meeting of the Volcanic Studies Group of the Geological Society, London, November 1996
96/24 Assessment of Pyroclastic Flows, May 1996. Steve Sparks
96/25 Monitoring Eruptive Activity at Soufriere Hills, Montserrat, August-September 1996. Christopher J Kilburn
96/26 Dome volume report 6
97/1 Daily reports, January 1997
97/2 Daily reports, February 1997
97/3 Daily reports, March 1997
97/4 Daily reports, April 1997
97/5 Daily reports, May 1997
97/6 Daily reports, June 1997
97/7 Daily reports, July 1997
97/8 Daily reports, August 1997
97/9 Daily reports, September 1997
97/10 Daily reports, October 1997
97/11 Daily reports, November 1997
97/12 Daily reports, December 1997
97/13 Preliminary investigations of the seismic velocity structure of the Soufriere Hills volcano. John Power, Antonio Villasenor and Harley Benz
97/14 Potential impact of current activity at Soufriere Hills volcano on the hydrology of Montserrat. Simon Young and Gill Norton
97/15 Summary of environmental effects of volcano emissions, Soufriere Hills volcano, Montserrat. Gill Norton
97/16 Soufriere Hills Volcano Hazard Assessment. Simon Young
97/17 Miscellaneous articles and abstracts 1997
97/18 Phase equilibria of the Montserrat magma system. Reports I and II. Jenni Barclay, Mick Murphy, Mike Carroll, Steve Sparks, Anne-Marie Lejeune and Ray Macdonald
97/19 Petrology and geochemistry of the Montserrat magma. Reports I and II. Mick Murphy, Jenni Barclay, Steve Sparks, Mike Carroll, Ray Macdonald and Anne-Marie Lejeune
97/20 Degassing and ascent rate controls on the eruptive style of recent dome-forming andesites of the Soufriere Hills volcano, Montserrat, W.I. Joe Devine, Malcolm Rutherford, James Gardner, Simon Young, Alan Smith, William Ambeh, Richard Hoblitt, John Shepherd and George Skerritt.
97/21 Dome volume report 7: January 15 to April 30, 1997. Eliza Calder, Tim Druitt, Paul Cole, Richard Herd and Mike James
97/22 Pyroclastic flows in May-July 1996, September 1996 and Easter 1997. Eliza Calder, Paul Cole, and Angus Miller
---
Montserrat Volcano Observatory