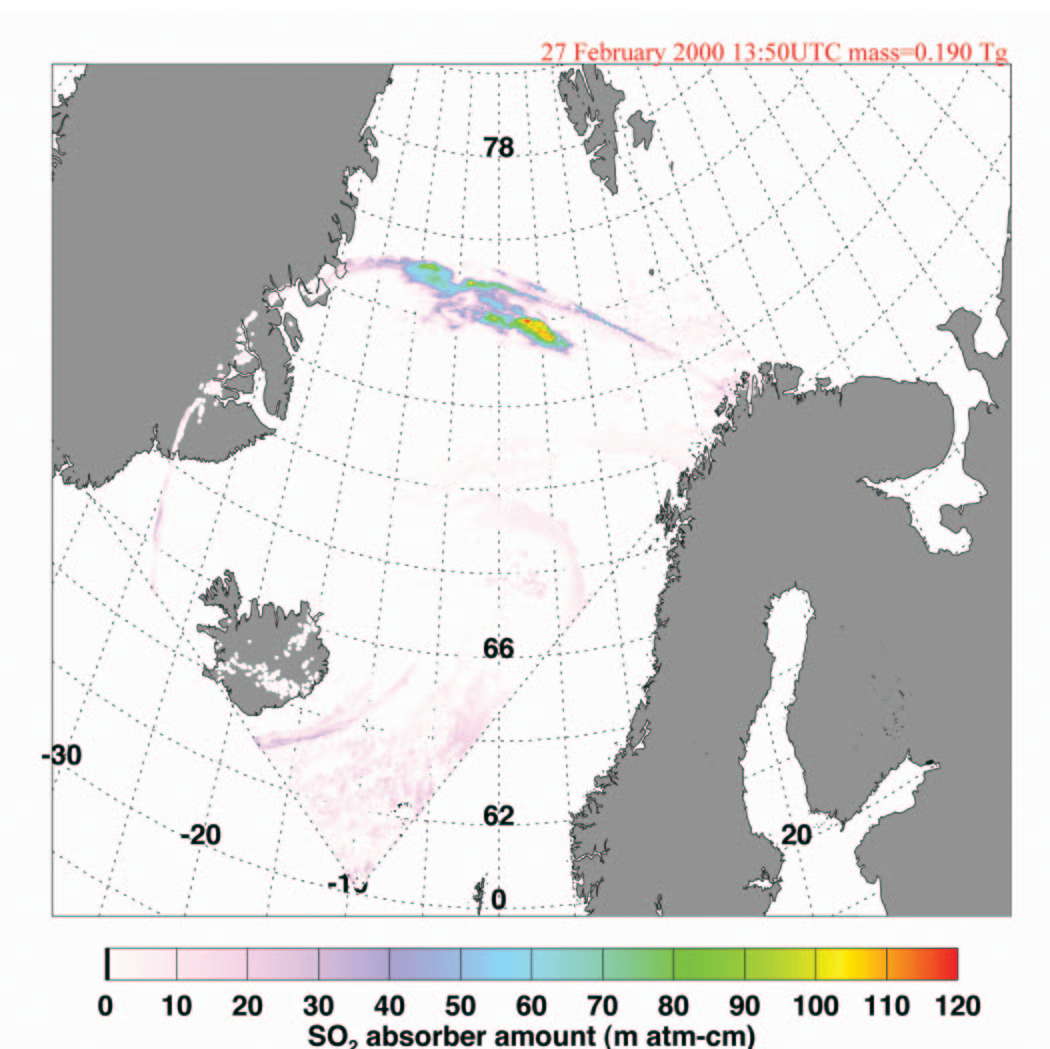 This section of the Volcanic Clouds Web Site describes the future of volcanic cloud work. New detectors will become available, and some old detectors will be lost. Improvements in various methods are also being made, and there is even the opportunity of the development of detectors specifically developed for volcanic clouds. There is a growing list of international users of volcanic cloud data and numerous relevant meetings and workshops about volcanic clouds. Send your news about the subject to the email address below.
New Satellite Detectors
SEVIRI new detector with robust IR capability on the European Space Satellite beginning summer 2001; has thermal 2-band IR plus SO2 channel
ASTER High resolution multispectral pointing detector on Terra
GMS-5 new western-Pacific geostationary detector with GOES-like 2 band capability
Complete list of Meteorological Satellites (Kidder)
Data Gap for GOES
The GOES satellite series provides geostationary coverage of the Western Hemisphere for meteorological purposes and has provided excellent 2 band infrared (brightness temperature difference) coverage to volcanic cloud observations for volcanoes in North and South American, and the Caribbean and parts of the Pacific region. There is an unfortunate gap in two-band capability of GOES caused by the lack of band 5 coverage at 11-12 microns, which is scheduled for approximately 6 years, from about 2002 to 2007 or 2008. This corresponds to the GOES-M, GOES-N and GOES-O instruments. Beginning with GOES-P, the capability will be restored.
Algorithm Improvements
The improvements in volcanic cloud schemes are numerous.
First, we expect that multiband IR data which can detect both SO2 and ash will be routine soon, via MODIS and SEVERI detectors.
Improvements in IR detection as a result of atmospheric corrections are also being developed.
The ability to use TOMS AI data for retrieval of optical depth and particle size of ash is being developed.
VOLCAM plans
VOLCAM is a volcanic cloud satellite detector, specifically designed to mitigate volcanic cloud hazards. It was proposed to NASA as an ESSP mission and reviewed favorably. The mission was tabled and delayed because a commitment after the demonstration period was not agreed to by NOAA. However other proposals for VOLCAM-like instruments are likely, and platforms for such and instrument are being sought.
Meetings and Workshops
International Workshop on Remote Sensing of Volcanic Eruption Clouds Michigan Technological University, Houghton. July 29-Aug 3, 2001.
American Geophysical Union, San Francisco, Dec 10-14, 2001 The premier international meeting for volcano research is AGU. This year there is a special scientific session about Volcanic Clouds.
International Association of Volcanology and Chemistry of the Earth's Interior(IAVCEI) hosts international meetings of volcanologists.
Partners in Volcanic Cloud Work
David J Schneider, USGS Alaska Volcano Observatory, Anchorage, AK, email
Ken Dean, Univ Alaska-Fairbanks/Alaska Volcano Observatory, email
Gary Ellrod, NOAA NESDIS, Washington DC (Washington VAAC), email
Gerald.J. Ernst, Earth Sciences, University of Bristol, UK, email
Luke Flynn, SOEST, University of Hawaii, Honolulu, HI, email
Hans Graf, Max Planck Institute for Meteorology, Hamburg, Germany, email
Andrew Harris, SOEST, University of Hawaii, Honolulu, HI, email
Nikolay Krotkov, Atmospheric Remote Sensing, Raytheon ITSS, Lanham MD, email
Arlin J Krueger, TOMS SO2 Group, NASA Goddard Space Flight Center, Greenbelt, MD, email
Clive Oppenheimer, Geography Department, Cambridge University, email
Fred Prata, Atmospheric Processes Program, CSIRO, Aspendale, Vic, Australia, email
Vincent J Realmuto, NASA Jet Propulsion Lab, Pasadena, CA, email
Rene Servranckx, Canadian Meteorological Centre, Environment Canada (Montreal VAAC), email
Christiane Textor, Max Planck Institute for Meteorology, Hamburg, Germany, email
Andrew Tupper, Bureau of Meteorology, Darwin, NT Australia (Darwin VAAC), email
Sarah Watkin, The Met Office, Aviation Applications Research, Bracknell, UK (London VAAC), email