First Vice-President 2002-2003
The Society of Exploration Geophysicists

Wayne Pennington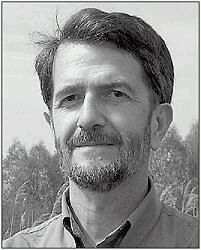 Wayne Pennington has been a member of SEG since 1979, joining as a new assistant professor at The University of Texas at Austin. Since that time, he has worked at Marathon Oil Company's Petroleum Technology Center in Littleton, Colorado, and, for the past eight years, as a professor of geophysical engineering at Michigan Technological University, his current position. He spent the past academic year as a visiting scientist at Schlumberger Cambridge Research in England, where he wrote a chapter on "Reservoir Geophysics" for the new edition of the Petroleum Engineering Handbook to be published in 2003 by SPE, and cochaired SPWLA's recent "Seismic Petrophysics" Topical Conference.
His education includes degrees in geology and geophysics from Princeton, Cornell, and the University of Wisconsin-Madison, with time between degrees at Lamont-Doherty Geological Observatory. His early work in seismicity and tectonics took him to Pakistan, Afghanistan, Mexico, and Colombia, experiencing earthquakes that cost hundreds of lives, the largest at magnitude 7.7. He continues to be involved in earthquake seismology as a reservoir monitoring tool and as a way to interest young people in the earth sciences.
Wayne's long record of participation in SEG activities includes two years as chairman of the Development and Production Committee, four years as associate editor for GEOPHYSICS, four years on the Editorial Board for THE LEADING EDGE, chairing the 1992 D&P Forum on Monitoring Reservoir Changes Over Time, serving as guest editor for several issues of THE LEADING EDGE, and as an author of papers in THE LEADING EDGE and GEOPHYSICS.
Position Statement
I find work to be the most interesting at the place where three disciplines -- geophysics, formation evaluation, and reservoir engineering -- meet. My expertise is in geophysics, but my applications are in all three fields. As such, my home society is SEG, but my activities are also in SPWLA, SPE, and AAPG, among others. I consider cross-disciplinary education and interaction to be an important aspect of most geophysicists' careers, and encourage it among my students and associates. Cross-society interaction is not easily accomplished, except at the grassroots level, where I have been most active. I intend to assist SEG, as an international society, in working more closely with its sister societies to the benefit of SEG members; of course, much of the interaction will continue to be made by individual workers and committees, rather than the society leaderships.
It is important that SEG encourage and support its members in their cross-disciplinary activities, and to work with other societies to maintain an open international approach to integration, interaction, and education. This includes giving authority to the committees within SEG to continue their interactions and to enhance them, removing roadblocks that may exist, and actively encouraging, assisting, and developing new activities.