The Geological and Mining Engineering and Sciences department is pleased to announce the lecture of: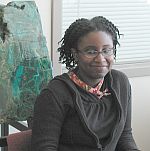 Ms. Gari Mayberry, Geologist of the U.S. Geological Survey at the Smithsonian

Mayberry received an MS degree in Geology at MTU in 1999.

The event is partially sponsored by the MTU Visiting Women & Minority
Lecturer/Scholar Series.


Title: A volcanologist's life in Washington D.C.

One might not expect there to be much work for a volcanologist in Washington D.C., but there is actually quite a variety of work to be done. Gari Mayberry discussed her various job duties as a U.S. Geological Survey employee stationed at the Smithsonian Institution's Global Volcanism Program, and her work with the U.S. Agency for International Development. Topics included the Weekly Volcanic Activity Report, and a new database compilation of reported incidents of airports impacted by volcanic activity.
---

Back To News page

© MMIII
Department of Geological & Mining Engineering & Sciences
Michigan Technological University
1400 Townsend Drive - Houghton, MI 49931-1295
(906) 487-2531