While in Mexico to visit with the Felipe Calderon, president of Mexico, President George Bush met with Training, Internships, Exchanges and Scholarship (TIES) Recipients at the Hyatt Regency in Mérida Mexico , including Michigan Tech graduate student Agustin Robles-Morua.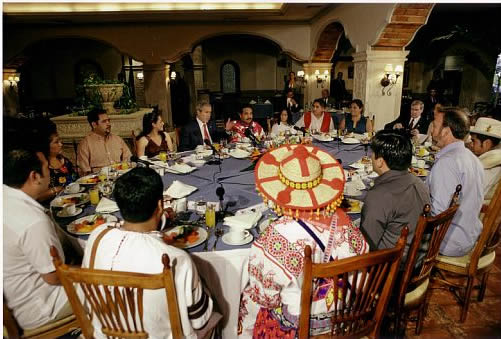 Agustin Robles-Morua is seated directly across the table from President Bush (White House photo)
His work to design and build support for a new wastewater system in a rural Mexican town earned Agustin Robles-Morua a visit with President George Bush in March 2007. Robles-Morua, a Ph.D. candidate in environmental engineering, was one of 14 students selected by the U.S. Agency for International Development (USAID) to meet with Bush.
Robles-Morua told the Houghton Daily Mining Gazette, " It was an honor to be selected and to be part of the group of students that met President Bush," Robles-Morua said. "A unique experience. I don't think I'm ever going to get such a big honor again. It was a big honor to represent Michigan Tech, the University of Sonora and the people from the community of Rosario — who should be the people we honor, because they took on the project for themselves."

(White House photo)