DEBORAH BEACH SELECTED TO RECEIVE GRADUATE STUDENT ACHIEVEMENT AWARD; BEN DRENTH RECEIVES PROVOST SCHOLAR AWARD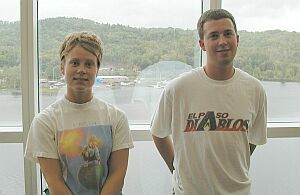 Two students from Geological and Mining Engineering and Sciences were honored at the President's Fall 2002 Convocation.

Graduate student Deborah Beach has been selected by the graduate school to receive the Graduate Student Achievement Award.

Benjamin Drenth received the Provost Scholar Award. He has earned a 3.99 grade point average. He is President of the MTU chapter of the Society of Exploration Geophysicists, a member of Tau Beta Pi Fraternity, and a research assistant in the Department.

Deborah Beach was chosen for her outstanding professional, research and teaching experience; strength of her nomination letter; depth of her publications; and for service that exemplies doctoral study at the University. Beach received her BS in Geological Engineering at MTU in 1998 and following work as a research assistant at MTU and as a project engineer at MKM Systems and a systems engineer at Church and Associates, is now enrolled as an MTU Whirlpool Fellow.

She is MTU's first student in the doctoral program in geological engineering, and has made four conference presentations with published abstracts and three conference proceedings papers. She also received the prestigious National Science Foundation Scholarship award. She is a member of the American Association of Engineering Geologists and has research interests related to contaminant fate and transport in hydrological systems. Beach has also served as a youth instructor, graduate teaching assistant and personal tutor, and hopes to teach undergraduate and graduate level courses in the areas of contaminant transport, hydro-geology and vadose zone hydrology. She would like to take an active role in course development and classroom education while working toward her doctorate. According to Ted Bornhorst, chair of GMES, "I am very excited to see Debbie chosen to receive this award. Her outstanding professional, research and teaching experiences exemplify the spirit of graduate education at Michigan Technological University".
Info from Tech Topics