2002 Henry Darcy Distinguished Lecturer
Dr. David Hyndman
Department of Geological Sciences
Michigan State University
Picture of Darcy Lecturer Dr. David Hyndman, on behalf of NGWA, presenting President Angela Quillo a certificate of recognition for the Student
Chapter of NGWA at Michigan Tech.
Dr. David Hyndman speaking with other guests at reception in the Robbins Atrium
"Efficient Large-Scale Bioremediation in a Heterogeneous Aquifer: The
Schoolcraft Bioaugmentation Experiment"
On Friday, October 11, in Dow 642 Dr. David Hyndman discussed how ground water flow and contaminant transport models can be used both to design bioremediation systems and to evaluate the influence of heterogeneities on contaminant fate and transport. The Schoolcraft bioremediation system, which was developed as a multidisciplinary collaborative research effort between hydrogeologists,
microbiologists, and environmental engineers, has achieved greater than 95 percent remediation efficiency over a period of three years.
The Henry Darcy Distinguished Lecture Series in Ground Water is sponsored by the National Ground Water Education Foundation. This visit is partially supported by the Department of Geological and Mining Engineering and Sciences of Michigan Technological University.
SPEAKER BIOGRAPHY
Dr. David Hyndman is an associate professor in the Department of Geological Sciences at Michigan State University. He received his B.S. in hydrology from the University of Arizona, and his M.S. and Ph.D. degrees in hydrogeology from Stanford University. He has worked for the Water
Resources Division, USGS, and Oak Ridge National Laboratory.
He serves as an associate editor for both Ground Water and Water Resources
Research. His research focuses on:
- Aquifer characterization methods using three-dimensional seismic, radar,
and tracer data
- Modeling the impacts of land use on water quality
- Imaging contaminant plumes using ground penetrating radar
- The influence of seasonal recharge pulses on REDOX zonation
- The design of bioremediation systems
- Modeling microbial transport and contaminant biodegradation.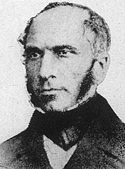 Darcy Lecture Series
To foster interest and excellence in ground water science and technology,
the Henry Darcy Distinguished Lecturer Series in Ground Water Science was
established in 1986. The series - which has reached more than 50,000
ground water students, faculty members, and professionals honors Henry
Darcy of France for his scientific discoveries of 1856. Darcy's
investigations established the physical basis upon which ground water
hydrogeology has been studied ever since.