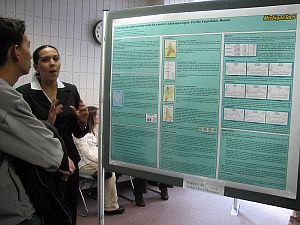 Andrea Munoz Hernandez
Title: Calibration of a water surface model for a basin in a semiarid region: The Rio Yaqui-Basin, Mexico (Photo from the Oct 2006 Graduate poster session)
Submitted by Madeline Mercado Voelker, advisor, and Jaime Camelio, co-advisor

Andrea Muñoz-Hernández, a PhD student in environmental engineering, won first place for her poster, "Calibration and Uncertainty of a Surface Water Model for a Basin in a Semiarid Region: The Rio Yaqui-Basin, Mexico," at the Society of Hispanic Professional Engineers National Conference, held recently in Denver.

Michigan College/University Partnership-sponsored students Idaliza Gómez (Biological Sciences) and Andy Publes (ECE) were among the 33 students selected to attend the inaugural Society of Hispanic Professional Engineers (SHPE)/ National Consortium for Graduate Degrees for Minorities in Engineering and Science, Inc. (GEM). Graduate Records Exam/Getting Ready for Advanced Degrees Lab, in Denver Jan. 10-11, co-hosted by the National GEM Consortium and the Advancing Hispanic Excellence in Technology, Engineering, Math and Science, Inc.

Gómez was also selected to present her poster, "Identification of Microsatellite Markers for Diagnostic Genotyping of Populus Fremontii X Angustifolia Backcross Hybrids," at the Society for Advancement of Chicanos and Native Americans in Science (SACNAS) National Conference held in Tampa last year.

"As the advisors of the Michigan Tech Nosotros/SHPE student chapter, we are extremely proud of our students' achievements," said Mercado Voelker. "Being recognized at the national level in organizations such as SHPE and SACNAS is a great honor, and to hear the name of our institution in a room with over 6,000 Hispanic and corporate representatives was a very moving experience."