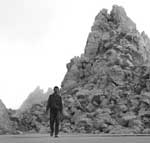 The Graduate School has announced that Rüdiger Packal Escobar Wolf (GMES) is Michigan Tech's nominee for the Midwestern Association of Graduate Schools Distinguished Thesis Award. Wolf was jointly nominated by professors Jimmy Diehl and William Rose (GMES). His thesis established for the first time the age of the lava flows found in the 1902 explosion crater of Santa Maria volcano and whether or not these lava flows recorded the Mono Lake excursion, a geologically important excursion of the geomagnetic field. Wolf is currently continuing his education as a PhD student.

Amber L. Kenny (SFRES) was selected as a finalist in the competition. She was nominated by Professor Blair Orr (SFRES). Her thesis was completed as part of the requirements for the Peace Corps Master's International Program in Forestry. She overcame language and cultural barriers to develop a scientific thesis that has the potential to impact many lives in Africa.

Molly Hayenga (Humanities), nominated by Professor Elizabeth Flynn, and Afton Sather-Knutsen (Social Sciences), nominated by Professor Barry Solomon (Social Sciences), were also considered by the committee.

The committee to evaluate the nominees consisted of graduate faculty representing a broad range of graduate programs: chair Michael Neuman (Biomedical Engineering), Professor Pushpalatha Murthy (Chemistry), Assistant Professor Robert Froese (SFRES) and Professor Gary Campbell (SBE). Next year's competition will consider applicants who have completed their degrees between Oct. 1, 2007, and Sept. 30, 2008. An application consists of a recommendation letter from the advisor and an electronic copy of the thesis. Please consider nominating your MS students next year.
WHY VOLCANIC RISK?
GUATEMALAN VOLCANOES
VOLCANIC HAZARDS IN GUATEMALA
VOLCANIC RISK AND RISK MANAGEMENT