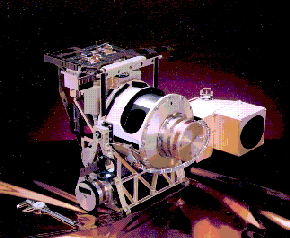 ---
AVHRR
The Advanced Very-High Resolution Radiometer instruments are mounted on the NOAA-14, NOAA-15, and NOAA-16 satellites which operate in near-polar, sun-synchronous orbit.
The AVHRR provides our research group with Lake Surface Temperature (LST) estimates.
---
The Sea-viewing Wide Field-of-View instrument is carried by NASA's SeaStar Spacecraft, orbits in a sun synchronous orbit approximately 705 km from Earth's surface.
SeaWiFS data provides our group with chlorophyl, sediment concentration (as Rrs at 555nm), K_490, and primary production under development data.
---
MODIS

The Moderate Resolution Imaging Spectroradiometer is the newest Ocean color satellite, as well as the most robust, relaying 44 data products to the Earth, including SST, Ocean Color, and Chlorophyl.