SeaWiFS Processing: Final Products
---

Cloud-corrected, georectified images processed by SeaWiFSMAP now undergo processing using EASI/PACE software, which converts raw data into .pix files, consisting of 13 channels, which are then converted to web-ready *tif files available on our website, GL SeaWiFS Archives .
---
Additional products available on our website include Level 3 Weekly and Monthlycomposite data for the following products: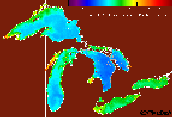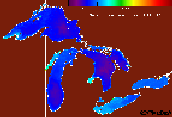 ---
Other Products
Our group also produces a number of extra products that utilize different channels or satellites to study lake phenomena.
One of these products uses edge detection software to combine AVHRR SST and SeaWiFS chlorophyl to describe the role thermal boundaries play in production cycles in the Great Lakes. The August 8, 1998 Lake Superior KITES subset image below illustrates this technique: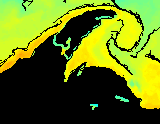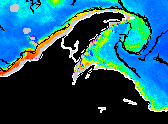 Left: AVHRR SST image with VW-SIED overlaid edges.
Right: Same-day SeaWiFS OC2 Chlorophyl with SST edges overlaid

---
Back to Image Processing Main